Latest News for MOT Testers
No ministry plates; no MOT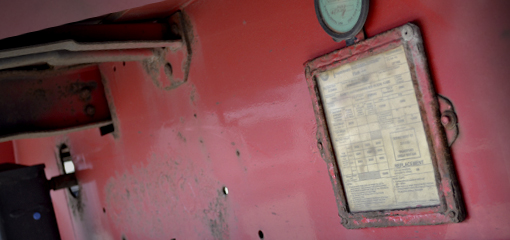 Before you take a commercial vehicle for its annual test, you must have a plating certificate – also known as a ministry plate – that shows the permitted axle and gross vehicle weights.
This is listed as part of the process in the DVLA's V355 guidance notes when you first register your vehicle. But if you've bought a new vehicle from a dealer or manufacturer who registered it, it's worth checking that the plating certificate is included. If not, you'll have to apply for one before you can take your vehicle to annual test.
To get your plating certificates, you must email your European Community Whole Vehicle Type Approval (ECWVTA) certificates to NTA@vosa.gsi.gov.uk or post them to:
DVSA Testing and Support Services
Ellipse
Padley Road
Swansea
SA1 8AN
In your covering note, you must include:
• customer name and address
• vehicle registration mark
• any reduced gross and train weights for Vehicle Excise Duty tax purposes
• date of first registration
We will create the plates and will usually be able to issue you with them within 16 weeks of receipt of your certificates.
Source:
movingon.blog.gov.uk
---
More News Articles
Half of MOT fails could be avoided
Should I be failing defective stop lamps?
5 things DVSA customers ask about MOTs
Top 3 MOT fail items
Online survey shows most MOT garages are ready to move to new testing service
Do test stations have the discretion to pass historic American vehicles?
DVLA reminds customers of new refund rules
Why were shock absorbers removed from the MOT test?
Benefits of joining DVLA's fleet scheme
Dealing with those who phone and drive
Essential facts on fee changes
Load security for XL-rated vehicles
Check type-approval before you buy!
Changes to tachograph rules for local journeys
All on board with Driver CPC
Exhaust and waste systems on buses and coaches
Stopper trial with Highways Agency
Do you think classic vehicles should be exempt from annual test?
No ministry plates; no MOT
Crackdown on defective fuel systems
Test fees at ATFs will fall
Indicator tell-tale lamp not working?
Does removing a passenger seat result in a fail?
Top 3 MOT fail items
Common mistakes made by MOT testers