Latest News for MOT Testers
Crackdown on defective fuel systems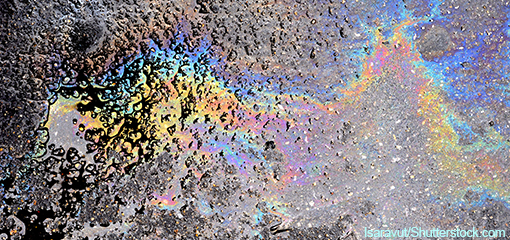 From 1 September 2014, we'll be taking a more robust approach to vehicles with defective fuel systems. It's not acceptable to contaminate the road surface or to drive a vehicle in such poor condition that a fuel spill is likely.
Following a Highways Agency (HA) report on the effect of diesel fuel spills on the road network, Department for Transport (DfT) asked us to review the sanctions we issue at the roadside for vehicles with defective fuel tanks and systems.
Last year HA reported 255 fuel spills, including on dual carriageways and motorways, resulting in lane closures and significant delays. The risks to road safety are obvious, but what you may not know is that it takes on average 5 hours to clear a fuel spill. You can imagine the disruption this causes to traffic. During roadside checks between 2013 to 2014, DVSA examiners detected 2,390 fuel system defects and issued over 1,500 prohibitions to vehicles with defective fuel systems.
We've reviewed our sanctions for defective fuel systems and agreed some changes with DfT. The main difference is that we'll now only issue immediate prohibitions for defective fuel systems and leaks. We have communicated these to the trade associations and updated the changes into the Categorisation of Defects and Enforcement Sanctions Policy.
An immediate prohibition will be given for:
missing or ineffective fuel cap or sealing arrangement
fuel leak caused by a defect, contaminating the road surface
insecure fuel tank where detachment is imminent
Source:
movingon.blog.gov.uk
---
More News Articles
Half of MOT fails could be avoided
Should I be failing defective stop lamps?
5 things DVSA customers ask about MOTs
Top 3 MOT fail items
Online survey shows most MOT garages are ready to move to new testing service
Do test stations have the discretion to pass historic American vehicles?
DVLA reminds customers of new refund rules
Why were shock absorbers removed from the MOT test?
Benefits of joining DVLA's fleet scheme
Dealing with those who phone and drive
Essential facts on fee changes
Load security for XL-rated vehicles
Check type-approval before you buy!
Changes to tachograph rules for local journeys
All on board with Driver CPC
Exhaust and waste systems on buses and coaches
Stopper trial with Highways Agency
Do you think classic vehicles should be exempt from annual test?
No ministry plates; no MOT
Crackdown on defective fuel systems
Test fees at ATFs will fall
Indicator tell-tale lamp not working?
Does removing a passenger seat result in a fail?
Top 3 MOT fail items
Common mistakes made by MOT testers