Latest News for MOT Testers
Test fees at ATFs will fall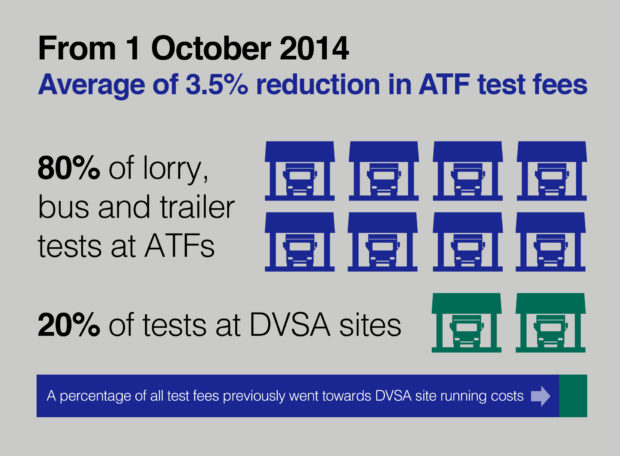 Following a consultation, fees for HGV and PSV annual tests will fall from 1 October 2014 for customers who use ATF sites.
Over 80% of all annual tests take place at private ATF sites. Customers who use these sites will no longer have to contribute to the cost of DVSA facilities. This means that test costs will fall by an average of around 3.5%.
ATF fee reduction
However at DVSA sites, where the cost of delivering tests is higher, fees will increase by an average of around 18.5%.
DVSA plans to provide at least 85% of annual tests from ATFs by 31 March 2015.
In addition to the changes to test fees, DVSA is also adjusting fees for HGV and PSV operator licences. These will rise by 1% to cover the running costs associated with the National Register of licensed operators.
Source:
movingon.blog.gov.uk
---
More News Articles
Half of MOT fails could be avoided
Should I be failing defective stop lamps?
5 things DVSA customers ask about MOTs
Top 3 MOT fail items
Online survey shows most MOT garages are ready to move to new testing service
Do test stations have the discretion to pass historic American vehicles?
DVLA reminds customers of new refund rules
Why were shock absorbers removed from the MOT test?
Benefits of joining DVLA's fleet scheme
Dealing with those who phone and drive
Essential facts on fee changes
Load security for XL-rated vehicles
Check type-approval before you buy!
Changes to tachograph rules for local journeys
All on board with Driver CPC
Exhaust and waste systems on buses and coaches
Stopper trial with Highways Agency
Do you think classic vehicles should be exempt from annual test?
No ministry plates; no MOT
Crackdown on defective fuel systems
Test fees at ATFs will fall
Indicator tell-tale lamp not working?
Does removing a passenger seat result in a fail?
Top 3 MOT fail items
Common mistakes made by MOT testers